Posted by Karah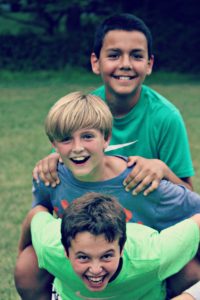 Back in 2009 when Ridgecrest Summer Camps first began our Parent Blog, we posted about several ways you can create a cybersafe home. "This generation of parents is the first to face the challenge of helping our children make the most of their virtual space while keeping them safe in it." (1) This rings more truly today than it did 8 years ago.
The world has rapidly changed since then, and the dangers of online activity apply to more than just what your child searches on the internet. Online bullying, predators, and in-app advertisements are one click away from accessing information about internet users, especially children. Comparitech is an online blog that has recently posted steps you can take to block unwanted contact and advertisements from the websites and apps your child might use. Since we at Ridgecrest Summer Camps want to continue partnering with you the parent as you invest in your child, we are pointing you to some professionals regarding these touchy issues.
This link will take you to a very informative blog posted by Comparitech in 2016. This guide is slightly different because it tackles the issue of online privacy which can span not only protecting children from online predators but also things like preventing identity theft (the FTC estimates that close to 3.5m children have had their SS number stolen for example) and ways to minimize the risks of the household computer becoming compromised. Take the time to read this blog and hear what the professionals have to say.
"Protecting Children's Privacy Online- A Guide for Parents, Carers, and Educators"
https://www.comparitech.com/blog/vpn-privacy/protecting-childrens-privacy/
Feel free to refresh your memory on other ways to create a cybersafe home that can still be applicable today. To access the blog posted by Ridgecrest Summer Camps in 2009, click the link here!http://parentsblog.ridgecrestcamps.com/tag/cybersafe-home/
(1) http://parentsblog.ridgecrestcamps.com/tag/cybersafe-home/ 
Posted in Just For Parents | Tagged Camp Crestridge for Girls, Camp Ridgecrest for Boys, internet safety, parent resources, Parenting Teenagers, Privacy Protection, Ridgecrest Summer Camps | Leave a reply